18th
October 2017
09:00 - 12:00
Highlights
Event description
This interactive workshop will look at:

• Some of the more common ways we go wrong in our thinking, including framing effects, confirmation bias and the availability heuristic.

• Developing some fundamental techniques in critical thinking: questioning the information, looking at the credibility of sources, engaging in hypothetical and counterfactual reasoning.

• Learning to differentiate between different forms of reasoning, showing how that affects the strength of conclusions, and how it can bring out hidden assumptions.

The aim is to develop a critical thinking 'toolkit' that gives a methodological basis for decisions, essential in conditions of change or conflict.
About the speaker
Antony Lamb , Antony Lamb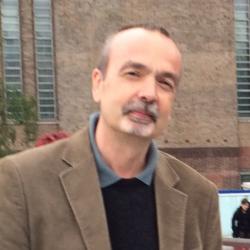 Antony's research is at the crossroads of political philosophy, law, and ethics. He is currently interested in the application of 'bottom-up' thinking skills - analysis, evaluation, criticism - to real-life problems and strategy development.
Antony's work for his Masters degree (Bristol) focused on a cluster of ethical problems - our responsibility to future humans, our responsibilities to animals, and the ethics of military responses to terrorism. He also holds a BA(Hons) First Class from Open University, and a PGCE in post-compulsory eduCation.

Antony has lectured for the lifelong learning departments at Cardiff and Bristol University, and also for Coleg Gwent.
Location
The Growth Hub Oxstalls Campus Oxstalls Lane GL2 9HW
Event organised by
The Growth Hub - Oxstalls
---
Key themes
Apply to attend this event